Employee Scheduling App
Whether you need to replace an absent employee, edit shift times, or check who's working, the Employee Scheduling App has you covered.
A mobile platform to manage your business from anywhere
Tanda's scheduling app gives managers the information they need to run a shift on the go with automatic notifications and tools to respond to changes throughout the day.
Who's in today
See who's coming in for the day and when they start. Keep an eye on multiple teams and venues straight from your phone.
Shift editing tools
Need to send someone home early or have them stay late? Quickly edit shifts from your mobile device with all the information you need.
Simple employee communication
Staff are notified when new schedules get published, when their shifts are about to start or when there are vacant shifts to fill. They can also submit leave requests from their phone.
Make real-time roster adjustments
View the roster at a glance and make changes as needed. Easily call someone in or send someone home from the palm of your hand.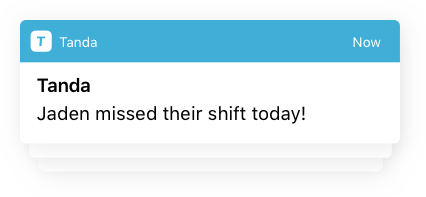 Manager Alerts
Tanda's Scheduling App notifies the manager on shift when staff are late, working beyond their roster, going into unexpected overtime or not taking a required break.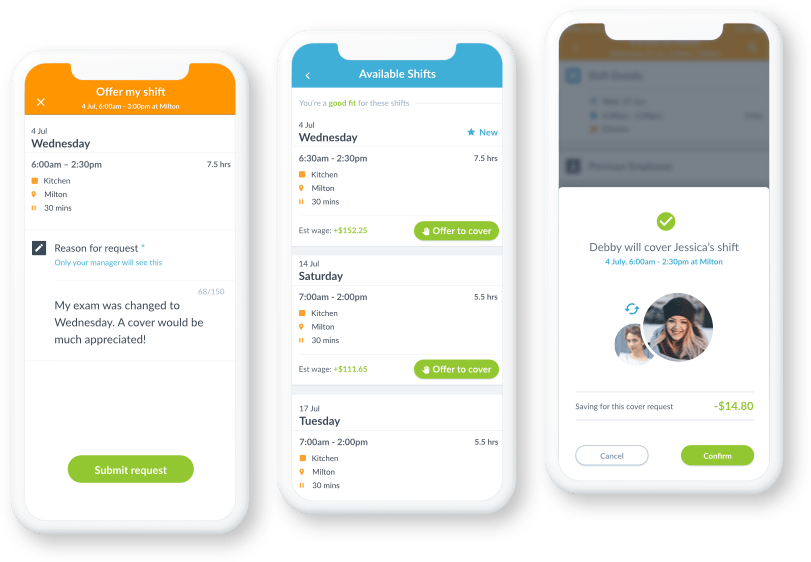 Shift Swapping in a snap
Let your employees tell you when they can't work a shift, and choose to notify all available staff in a single click. Skip the ringaround and let the Employee Scheduling App find a replacement for you.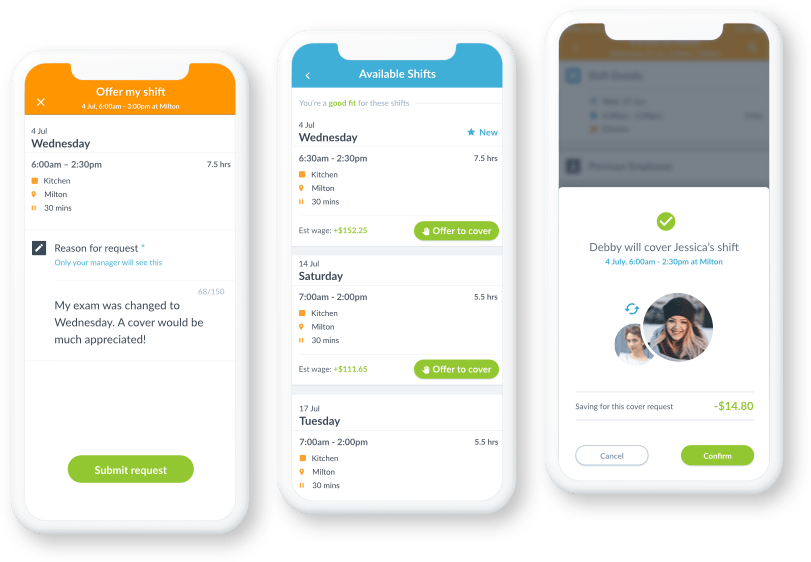 Shift Reminder
Allow team members to set multiple alerts and receive notifications from the app to remind them of their upcoming shifts.
New
Powerful instant messaging
Keep staff engaged and on the same page with company-wide announcements, group messages, and one-to-one chats.
Learn More
Integrations
Integrate Tanda with payroll and POS systems you already use










Thousands of people across the globe use, and recommend, Tanda
"The fact that myself and my staff can access everything in one simple app, makes everything so much easier for all of us."
Cam ,
Urban Climb
"Give Tanda a go, and watch very quickly how much more control and how much more understanding you have of your business - and you'll look back and you'll go, 'why was I doing it any other way?'"
Adrian Rosato,
Director of rawGroup Hospitality
"Tanda will be an essential tool for us moving forward as it will scale effortlessly."
Andres Shub,
Chief Operating Officer at Mon Purse and Tanda Client
Manage your team on the go