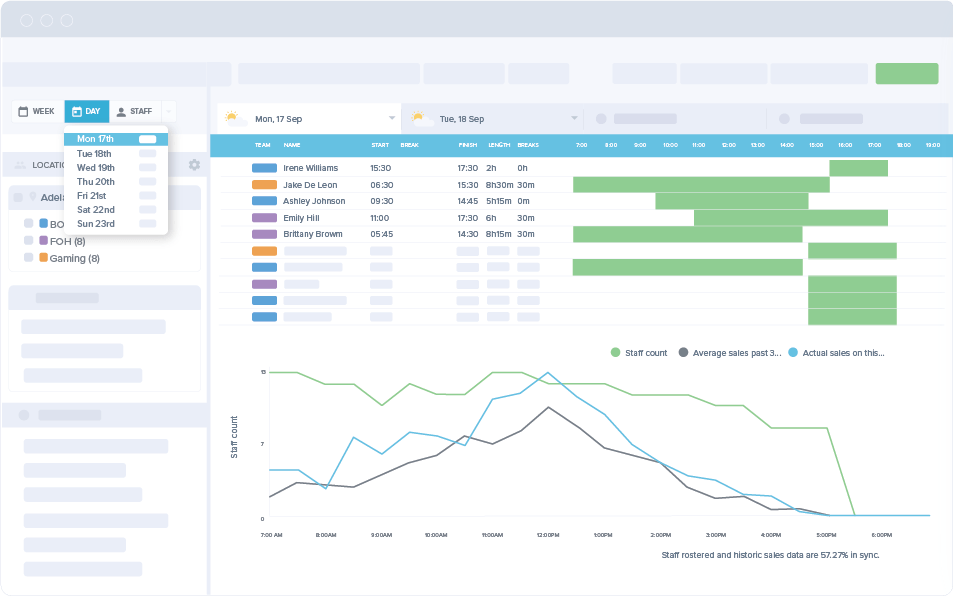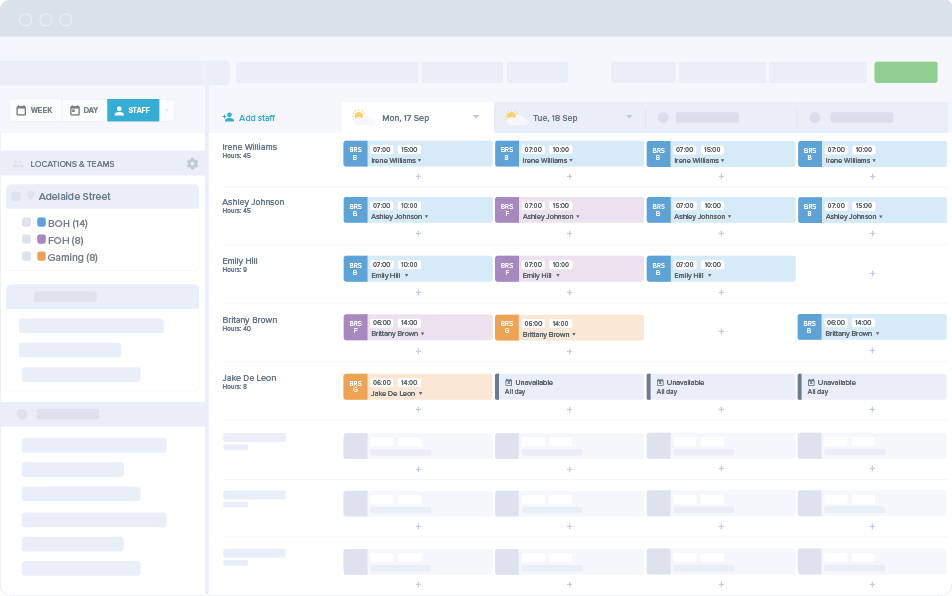 Rota Software
Tanda's Rota Software allows you to save time, control costs, and simplify your employee communications.
Create your perfect rota in minutes
Build rotas to match customer demand with Tanda's online Rota Software. See staff availability as you go, save templates, and set targets and rota costs to make sure you never go over budget.
Rota Templates
Save rota templates for different times of the year and apply them in seconds.
Leave Management
See who is available to fill any shift at a glance with our built-in leave management feature that tracks time off and holiday accruals.
Find Replacements Quickly
Quickly broadcast vacant shifts to available employees to ensure you always have the right number of people
Save your business time and money
Increase profits by giving your managers the data they need to control wage costs and build rotas in minutes. Drag-and-drop shifts, apply templates, and publish to staff instantly.
Simple Employee Communication
Publish rotas to staff instantly through the mobile scheduling app. Staff receive shift reminders, can fill vacant shifts, and manage their leave all in one place.
Control your labor costs
Tanda's Rota Software has built in budgeting tools that show your daily and weekly labour cost in real-time as the week unfolds. Get real-time overtime alerts and track unexpected changes to labour cost throughout the week using Tanda's Live Wage Tracker.
Integration
Integrate Tanda with payroll and POS systems you already use








Thousands of people across the globe use, and recommend, Tanda
"Now with Tanda, you just jump on, change what you need to, and it'll send out messages to everyone involved, which saves a lot of time."
Brett Hooper,
Beefy's Pies
"We run 7 payrolls each week and it is such an easy process with having all the timesheet data there ready to export to Xero."
Rebekah Eley,
Farquhar Kitchens
"Tanda will be an essential tool for us moving forward as it will scale effortlessly."
Andres Shub,
Chief Operating Officer at Mon Purse and Tanda Client
Build your first Rota today
Shift Swapping
Allow staff to swap shifts that they can't work and automatically update your rota with manager approval
Predictive Workforce
Use your business' data to automatically determine exactly how many staff you need for any given shift