Payroll Add-ons
Paying people right made easy with a wide range of seamless integrations with all major payroll systems in Australia and abroad.
Fast and accurate payroll integrations
Export in a single click to over 50 payroll systems in Australia and abroad. Tanda exports award-interpreted timesheets directly to your payroll system, ready for your next pay run.
Error-free Data Entry
Tanda exports all timesheet and wage data to your payroll system to avoid any costly data entry errors.
Pay Item Management
Tanda automatically matches your payroll items in your payroll software, making it easy to manage and track wage costs.
Gross Wage Calculation
Tanda's robust award interpreter automatically breaks down your timesheets and calculates each employee's gross wages, saving you time and reducing errors.
One-click Payroll
Save time with our one-click payroll integrations that automatically push approved timesheets from Tanda to your payroll system for fast and accurate processing of pay runs.
Book a Demo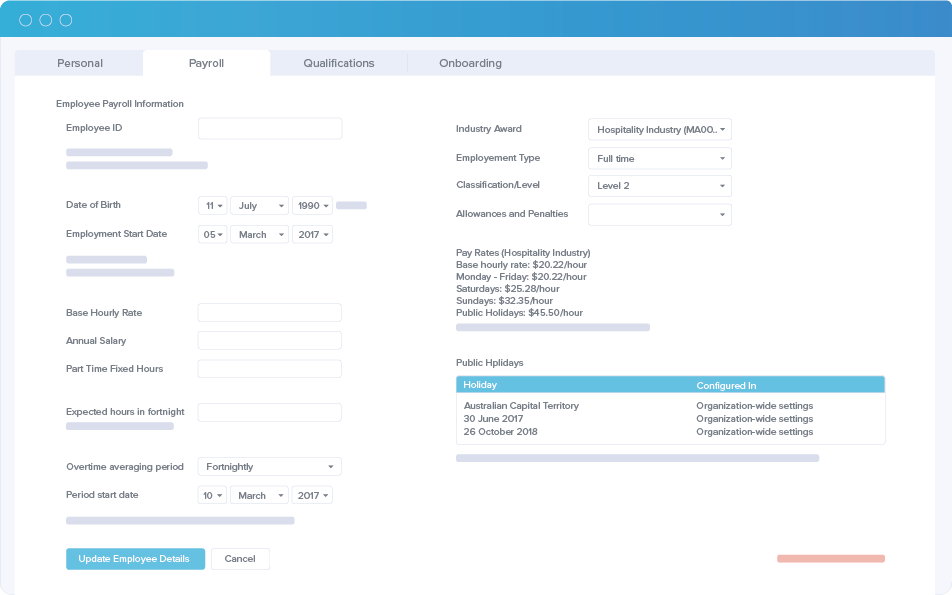 2-way Sync
Reduce admin time and improve reporting with our integrations that create and update pay items in your payroll system to match the relevant industry award.
Compliance First
Have peace of mind that staff are paid correctly. Let Tanda create and manage employee pay rates with automatic updates and multi-directional sync when Australian Fair Work releases changes, staff have birthdays, or get promoted.
Integrations
Integrate Tanda with payroll and POS systems you already use










Thousands of people across the globe use, and recommend, Tanda
"I have used lots of other payroll software and I have found Tanda and Xero to be extremely user friendly and simple to complete a payroll."
Rebekah Eley,
Farquhar Kitchens
"Give Tanda a go, and watch very quickly how much more control and how much more understanding you have of your business - and you'll look back and you'll go, 'why was I doing it any other way?'"
Adrian Rosato,
Director of rawGroup Hospitality
"Tanda will be an essential tool for us moving forward as it will scale effortlessly."
Andres Shub,
Chief Operating Officer at Mon Purse and Tanda Client