Not just selfie clock-ins and faster rostering: What you really get by choosing Tanda
WHAT'S NEW IN TANDA – FEBRUARY 2019
Choosing Tanda means choosing to get your time back.
Time you can put into great things. Like expanding your business. Creating new products. Getting an hour of r & r. Anything but manually organising your team. That's why we say 'automated' a lot in these posts. So this February, we've got time-giving updates we think you'll love.
SMART TEMPLATES
One click: every vacant shift filled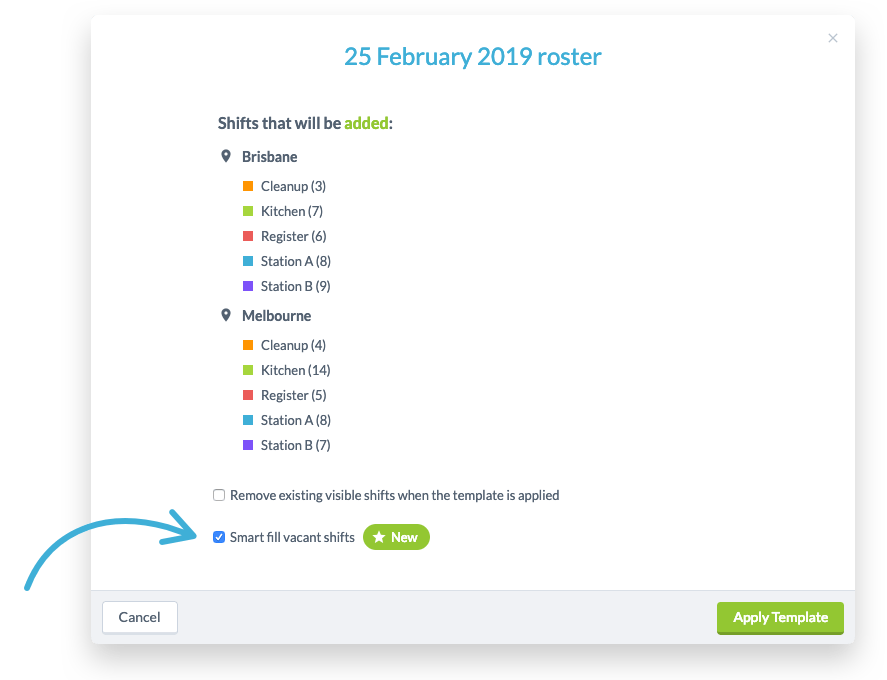 Pop up window with Smart Templates option (see arrow)
You've applied your template for the next fortnight's roster. But Matt's on leave starting next week, and Hannah is now unavailable on Fridays instead of Thursdays. And you've deleted their shifts–but they need filling. Which leads to the (extremely reasonable) question, 'What's the point of templates if I've got to do all this?'
Smart Templates is the newest step we're making towards not having to do all that. Use this feature when you're applying a roster template. When you use Smart Templates, Tanda's algorithm decides on the best person to fill a vacant shift. Sounds interesting? Learn how it works.
TIME-OFF CALENDAR
With their powers combined…
The new combined leave and unavailability calendar.
Leave and unavailability are now in one Time-Off Calendar! Need to know when staff can't come to work? No need to flick between two calendars. It's all in one place, and you can see what type of time off they are taking.
ROSTERS, DEMAND PREDICTION, NEW INTEGRATION
From little things: more time-giving updates
These smaller updates can create huge improvements to the way you run the team.
A screenshot of raw downloaded roster data.
A printed roster after your own heart
Customise and print your roster exactly the way you want it. Tanda now lets you download raw roster data into Excel. Whether you want to fit the whole thing into one page, or would rather not show the hours each employee gets, the power is all yours. Go to the roster tab on Tanda and click the print icon.
The new Demand Prediction Modal
The Public Holiday Surge: unusual sales data skewing demand prediction?
Christmas Day shutdown or the Boxing Day surge are not representative of typical sales. Our new Demand Prediction Modal highlights potential outliers like these. Now, you can see the culprits more clearly, and remove them from skewing your demand prediction. Try it out by going into your current roster on Tanda and click on any day. 
Three new Tanda integrations:
Clover POS (US and EU)

Live Insights on Retail Express

Timesheets export to Paypac
UPCOMING FEATURES
We're working on more, so you spend less time
Remote clock-ins: Clock-in anywhere through the mobile app. With GPS tracking.
Tanda Chat: Stay connected to your staff — all within Tanda.
Shift Replacements on Desktop: Request and approve shift replacements on the desktop version.